Credit: Original article can be found here
Air New Zealand Cargo has signed an International Airfreight Capacity agreement with New Zealand's Ministry of Transport that will give exporters and importers the ability to access key markets in a world where available air freight capacity is reduced due to the COVID19 pandemic.
Rick Nelson, Air New Zealand General Manager Cargo, said cargo customers will be able to access capacity across Air New Zealand's traditional network, with a handful of exceptions.
Ports the airline will not operate cargo flights to under the agreement are London and Buenos Aires. Singapore is also not included in the initial phase.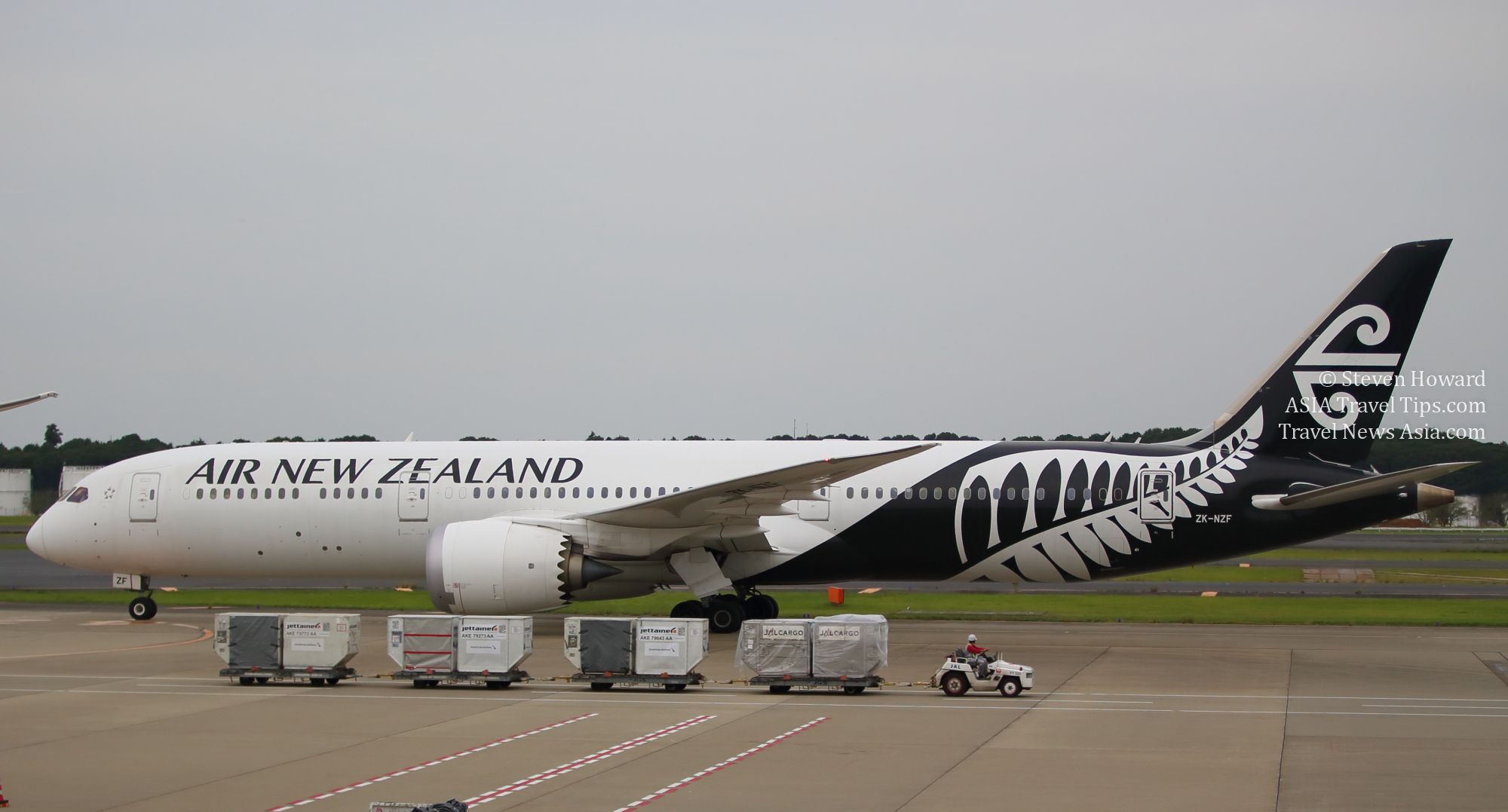 "The new agreement means Air New Zealand can publish scheduled cargo services into key markets which will allow freight forwarders, exporters and importers to plan and operate their logistics supply chains with certainty," Mr Nelson said. "We are working to offer connectivity to and from the United Kingdom and Europe, as well as Houston and Chicago via Los Angeles and San Francisco, Hong Kong and Narita gateways. This agreement will add significant value to New Zealand's air cargo community, and we encourage the New Zealand forwarding, export and import communities to get behind these cargo options. Naturally, we hope the need to operate under an agreement of this nature will be a short-term business model and in time we'll be able to revert to our traditional model as demand for passenger travel begins to pick up."
See latest Travel News, Video Interviews, Podcasts and other news regarding: COVID19, Air New Zealand, New Zealand, Cargo.
| | |
| --- | --- |
| Headlines: | AirAsia Extends Credits for 2 Years Rolls-Royce to Layoff at Least 9,000 People A Song of Support and Thanks to the NHS Staff of Ysbyty Enfys, Llandudno Aviation: Global Coordination Needed for COVID19 Measures British & Irish Lions Appoints CFO and Director of Marcom Hannah Loughlin Joins Six Senses Con Dao as DOSM Finnair Looking at More Layoffs SITA Invests in Digital IDs Designed to Replace Traditional Passports United Airlines Partners Clorox and Cleveland Clinic to Launch CleanPlus Biosecurity for Air Transport: A Roadmap for Restarting Aviation airBaltic to Resume Flights from Riga to Berlin, Helsinki and Munich Etihad Airways Expands Flight Schedule Eric Hallin Appointed GM of Six Senses Con Dao in Vietnam Mekong Innovative Startups in Tourism 2020 Calls for Applications Qatar Airways Starts Codesharing with American Airlines Airbus Opens First Dedicated A220 Production Facility in USA Delta Installing Plexiglass Shields at Airports Finnair to Resume Long Haul Flights in July with Strong Focus on Asia Hong Kong to Target Domestic Tourism; Reports April Visitor Arrivals Airbnb Appoints Tara Bunch as Global Head of Operations Hyatt to Layoff 1,300 People Globally Thai Airways Extends Suspension of International Flights Air France to Resume Select Flights Etihad Holidays Partners dnata Travel Group in UK IHG Expands Cleaning Protocols at Hotels Worldwide Finnair Increases Cargo Capacity by Removing Seats from Two A330s PG to Resume Flights to Chiang Mai, Lampang, Phuket and Sukhothai Cathay Pacific and Cathay Dragon Carried Just 13,729 Passengers in April Singapore Airlines Group's RPKs Down 99.6% in April HKIA Handled 32,000 Pax and 9,445 Flight Movements in April Smiths Detection Launches UVC Light Kits for Airport Security Checkpoints Boeing's X-37B Autonomous Spaceplane Sets Off on 6th Mission History of Conwy, North Wales – Interview with Councillor Bill Chapman Qatar Airways to Resume Flights to Brisbane, Australia Delta to Operate Passenger Flights to Frankfurt and London MICE: New Zealand Limits Events to 100-People Mike Delaney to Lead Boeing's Confident Travel Initiative Delta to Retire Boeing 777s by Year-End Air Astana Celebrates 18th Anniversary with Resumption of Domestic Flights Emercom of Russia Takes Delivery of First Ansat Helicopter Emirates Unveils Plan to Resume Flights to Nine Destinations Hong Kong Int. Airport Makes it Compulsory to Wear a Mask Korean Air Outlines Plan to Secure KRW 2.2 Trillion to Overcome COVID19 IATA Takes Pessimistic Look at Future of Air Travel AirAsia Introduces Contactless Technology to Enhance Safety WHO Launches Two COVID19-Related Mobile Apps UK's Civil Aviation Authority Signs MOU with Boeing Kevin Schmidt Re-Elected as Chairman of Security Manufacturers Coalition Cebu Pacific's COVID19 Safety Measures AirAsia Philippines Cancels All Domestic and Int. Flights Until 31 May Changi Airport in Singapore to Close T4 American Airlines Expands International Cargo Schedule Hahn Air Appoints EVP Research & Development United Airlines Appoints Brett J. Hart as President Finnair to Require All Passengers to Wear Masks Luis Gallego to Succeed Willie Walsh as CEO of IAG Hyatt and American Offer Holidays to NYC Health + Hospitals/Elmhurst Staff Craig Smith to Become Marriott's Group President – International UNWTO: 72% of Countries Have Closed Borders to International Tourism Etihad to Launch Scheduled Flights Between Melbourne and London Heathrow Resumption of International Air Travel Requires Global Approach Qatar Airways Giving Away 100,000 Free Tickets to Frontline Healthcare Professionals Bombardier Wins Delhi-Meerut Regional Rapid Transit System Contract Saab Appoints New CFO and Deputy CEO Boeing Uses Three Dreamlifters to Transport PPE from China to USA International Visitor Arrivals Could Fall 60-80% in 2020 Thailand to Promote Domestic Tourism First Vietnam Airlines to Increase Frequency of Domestic Flights Delta Signs Trans-American JV Agreement with LATAM Sneak Peek at Two Improvements in Air Canada's New Aeroplan FFP World Rugby Creates Series of Webinars and Workshops Bangkok Airways Reminds Passengers of Anti-COVID19 Measures Country in S.E. Asia Enhances SAR with Hermes 900 Maritime Patrol UAS Asia Pacific Airlines Report 25% Decline in Net Earnings for 2019 Korean Air to Expand Network in June Qatar Airways Unveils Plans to Expand Network Macao Cancels 31st Int. Fireworks Display Contest Royal Caribbean Extends Cancellation Policy PIA Signs Distribution Agreement with Amadeus United Airlines Looking to Raise US$ 2.25 Billion with Notes Heathrow to Trial New Measures in Fight Against COVID19 IATA Highlights Cost of Social Distancing on Aircraft Qantas and Jetstar Extend Flight Cancellations Air New Zealand to Expand Cargo Operations Hyatt's Global Care & Cleanliness Commitment Thai AirAsia Launches F&B Delivery Service Lufthansa Technik Busy with Pax to Cargo Conversions All Air France Passengers Required to Wear Masks from 11 May De Havilland Aircraft of Canada Resumes Work IHG Signs Resort in Saipan Airbus Develops A330 and A350 Cargo Solution for Airlines Air Canada Launches CleanCare+ Second Boeing 777X Begins Flight Tests Bombardier to Resume Aircraft Manufacturing in Canada Hamad Int. Airport Reports Q1 2020 Increase in Cargo Universal Postal Union Warns of Air Capacity Shortage Australia's Loyal Wingman Prototype Begins Ground Tests Aviation: Global Passenger Volumes Return to Levels Last Seen in 2006 Passenger Numbers of Asia Pacific Airlines Down 72.9% in March AirAsia Resumes Domestic Flights in Malaysia; Philippines and Thailand Next HD Videos and Interviews Podcasts from HD Video Interviews Travel Trade Shows in 2020 and 2021 High-Res Picture Galleries Travel News Asia – Latest Travel Industry News |