Credit: Original article can be found here
Air New Zealand operated a special repatriation flight between Auckland and Tonga on Tuesday.
The flight was the first that Air New Zealand has operated to transport passengers between New Zealand and Tonga since COVID19 border restrictions were introduced.
All passengers on the repatriation flight were required to take a COVID19 test four days before travel and carry proof of a negative result.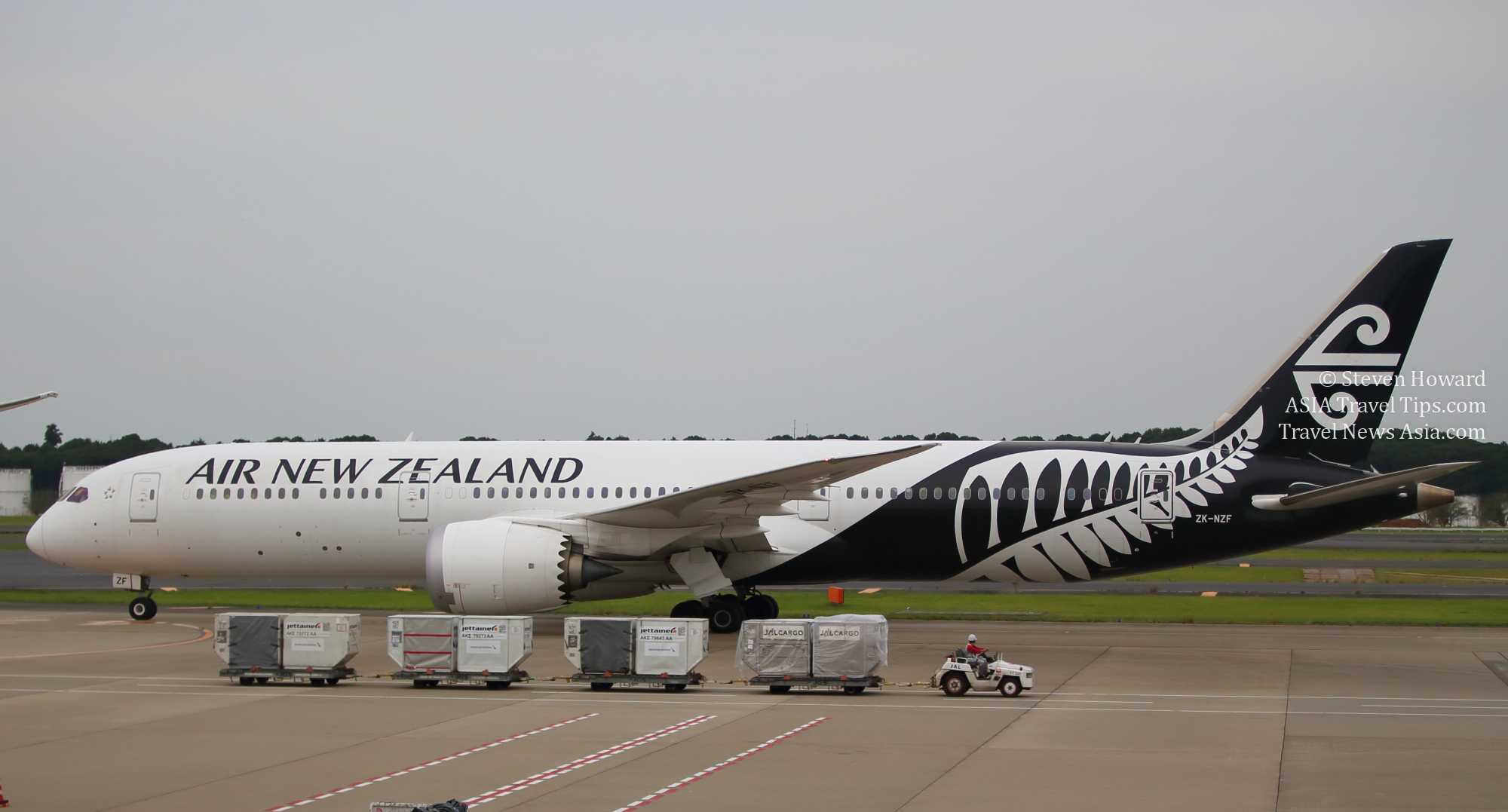 On arrival at Fua'amotu International Airport in Tonga, all passengers were required to enter a 14-day quarantine at locations nominated by the Government of Tonga.
Air New Zealand Senior Manager Pacific Islands Brent Roxburgh, said, "There are a large number of Tongan passport holders who have been in New Zealand for an extended period of time due to COVID19 related border restrictions. Air New Zealand is pleased to be working closely with the Tongan government to help facilitate those wanting to return home."
Air New Zealand is already working with the Government of Tonga on the next repatriation flight. Customers who wish to travel to Tonga are advised to register their interest here.
See also: Airports, Air Travel and COVID19 – Exclusive Interview with SITA's President of Asia Pacific, Sumesh Patel.
See latest Travel News, Video Interviews, Podcasts and other news regarding: COVID19, Air New Zealand, Tonga, Repatriation.
| | |
| --- | --- |
| Headlines: | Qatar Airways Makes Significant Changes to Mobile App Adoption of ATPCO's NDC Exchange Accelerates Amadeus Adds Chinese-Language Capabilities to Chatbot Four Seasons Hotel Alexandria at San Stefano Opens Beach Villas FlyArystan to Expand Network with New Routes Air New Zealand Flies Stranded Tongans Back Home Oakwood Requires All Guests to Wear Facemasks Accor Raises AU$404,000 for Australian Bushfire Relief Effort Emirates to Operate Guangzhou Flights with Airbus A380 Etihad Giving Snood-Style Facemask to Premium Passengers Korean Air Looks to Reassure Passengers About COVID19 Safety Measures Marriott Signs W Hotel & Residences in Rio Grande do Sul, Brazil WTTC: Nearly Three Million Travel & Tourism Jobs in UK at Risk IATA to Appoint Muhammad Albakri as SVP Customer, Financial and Digital Services Air New Zealand Renews Global Distribution Agreement with Sabre Embraer Launches Medevac Solution for Phenom 300 Aircraft Smiths Detection Completes Acquisition of PathSensors Capella Bangkok Starts Accepting Reservations AirAsia Unveils Plan to Launch Daily Flights Between Singapore and KL Air New Zealand Partners Tourism New Zealand to Promote Skiing Dubai and Cape Town Rounds of Rugby Sevens Series 2021 Cancelled Reed Working Towards Real and Virtual WTM London 2020 airBaltic to Increase Flights Between Riga and Greece Crown Group Appoints Ari Foo as Director of Sales – Skye Suites UNWTO Publishes New Guidelines on Accessible Tourism Thai Airways to Operate Two Repatriation Flights to/from Copenhagen in August Avani to Open 10 New Hotels by End-2022 MotoGP Cancels Argentina, Malaysia and Thailand; Extends Buriram Deal to 2026 Kia Ora Magazine Returns to Air New Zealand's Domestic Flights PBI Tennis Professional Nicola Reynolds Returns to Four Seasons Hampshire United Airlines to Expand International Network in September AirAsia X Reports Q1 2020 Results Boeing Receives US$265 Million Chinook Helicopter Order Cambodia May Soon Abolish Need for Arrivals to Pay US$3,000 Deposit Thailand's Minor Hotels to Rebrand Luxury Resort in Seychelles Accor Rebrands Travelodge Hotel in Rockhampton, Australia 40% of All Destinations Worldwide Have Eased Int. Travel Restrictions Rosewood Signs Luxury Hotel in Shanghai, China Thai Vietjet Launches Bangkok – Khon Kaen Flights Airbus Reports H1 2020 Results; Reduces Production Rate of A350 Delta Implements Automatic Seat Blocks; Makes it Easier to Change Plans Travelport Launches Airline Health & Safety Tracker Jin Air Implements Full Suite of ARMS from Laminaar Aviation Air New Zealand Stops Taking New Bookings to Australia Qatar Airways Resumes Flights to Helsinki Boeing to Reduce Production Rates of 777 and 787; Stop Making 747 Six Senses Signs Second Property in Italy Air Cargo Recovery Continues in June Royal Caribbean Appoints Dr. Calvin Johnson as Chief Medical Officer IHG Signs Luxury Resort and Residences in Halong Bay, Vietnam IATA Revises Global Passenger Traffic Forecasts Pacific Airlines to Adopt Sabre's Passenger Service System AirAsia Adds Ava the Chatbot to WhatsApp AFG Signs Deal for Two Boeing 737-800 Converted Freighters Asia Pacific Airlines Carried Just 724,000 Int. Pax in June Airbus' VSR700 UAS Performs First Untethered Flight Fiji Link Passengers Required to Download careFiji App Boeing and MHI to Upgrade Japan's F-15J Fleet Thai Airways to Operate Two Repatriation Flights to/from Taipei in August Emirates to Resume Flights to Baghdad, Basra and Nairobi Etihad Passengers Required to Show Negative COVID19 PCR Test Result Accelya Completes Acquisition of Farelogix Delta Partners Reckitt Benckiser, the Producer of Lysol Embraer Revises Scheduled Maintenance Requirements for Phenom Jets Bombardier Aviation Expands Worldwide Customer Support airBaltic Pilot Academy Takes Delivery of Eighth Diamond Training Aircraft Emerging Travel Trends in Asia Pacific – Interview with Sabre Thai Airways to Operate Two Repatriation Flights to/from Germany eRevMax Completes Integration with Airbnb Ascott Sells Citadines Didot Montparnasse Paris and Ascott Guangzhou Vistara Takes Delivery of First Airbus A321neo Thousands of Boeing 737s in Danger of Engine Failure Warns FAA GKN Aerospace Receives Keys to Global Technology Centre in Bristol Unicorp Takes Delivery of First U.S.-Based Global 5500 Business Jet Qatar Airways Resumes Flights to Cebu, Philippines Marriott to Rebrand Resort in Queensland, Australia Lao Airlines to Implement iPort DCS Sabre Releases Results of Asia Pacific Travel Sentiment Survey Singapore Airlines Raises Additional S$750 Million AAPA Urges Govt. to Ease 'Unduly Onerous Restrictions on Int. Air Travel' Amsterdam Now Home to Largest Holiday Inn Express in Europe Air Canada Reopens Maple Leaf Lounge at Toronto Pearson Korean Air to Implement Amadeus Digital Experience Suite Air New Zealand Working with Govt. to Manage Number of Arrivals DHL Express to Add Four 767-300BCFs to Fleet British Airways Increases Flights to Caribbean Four Seasons Hotel George V, Paris to Reopen 1 September Qantas Retires Fleet of Boeing 747 Jumbo Jets Premier Inn Appoints Leo Burnett London as New Advertising Agency Etihad Cargo to Enhance Export Control Compliance with E2open App Marriott Opens 800th Hotel in Asia Pacific Thai Airways to Operate Three Repatriation Flights to/from London Finnair to Resume Helsinki – Shanghai Flights SITA's Vision for the Immediate Future of Air Travel Cathay Pacific Issues Profit Warning IndiGo to Layoff 10% of Workforce SITA and NEC to Develop Secure Walk-Through Experience at Airports SA Rugby Forms JV with British & Irish Lions Etihad Airways to Resume Shanghai Flights Cathay Pacific Reports June 2020 Traffic Boeing and Etihad Using 787-10 on ecoDemonstrator Program Marriott to Require All Guests in U.S. to Wear Face Masks Emirates to Resume Stockholm Flights WHO Stresses Importance of Contact Tracing in Fight Against COVID19 Bangkok Airways to Reopen Suvarnabhumi and Samui Airport Lounges Plaza Premium Re-Opens Airport Lounges Chatrium Hospitality to Rebrand Hotel in Niseko, Japan AirAsia Launches Domestic Tourism Promotion in Malaysia American Airlines Implements Touchless Check-In Service Air Traffic at HKIA Continues to be Impacted by COVID19 Pandemic HKASA Cancels New World Harbour Race 2020 British Airways Retires Remaining Fleet of 31 Boeing 747-400 Aircraft Airbus Expands SAF Operations to Include Aircraft Deliveries from Hamburg Revised Rugby Sevens Schedule for Tokyo 2020 Olympic Games Qatar Airways to Resume Guangzhou Flights Airports, Air Travel and COVID19 – Interview with SITA's President Asia Pacific Dusit Thani Maldives to Reopen 1 August Etihad Expands Hand Baggage Only Fares to Destinations in Europe and Asia Bombardier Upgrades Cabin Options of Challenger 350 Business Jet Helvetic Airways Upgrades Embraer E2 Order Routes Asia 2020 to Take Place in Chiang Mai in June 2021 CWT Expands Return to Travel Resources Sangha Retreat in Suzhou Joins Preferred Amanpreet Bajaj Takes On Expanded Role at Airbnb Emirates Airbus A380s Resume Flights British & Irish Lions' 2021 Tour to South Africa Still On Rosewood Signs Luxury Resort in Sardinia, Italy Fiji Airways Extends Suspension of International Flights Air Canada Proposes Science-Based Approach to Quarantine Restrictions Hyatt Signs First New-Build Alila Resort in the Americas Italian Company Orders One ACH160 Helicopter Ritz-Carlton Opens Luxury Resort in Nikko, Japan Air New Zealand Completes Refurb of Domestic Lounge in Auckland Hong Kong Disneyland Park Closes; Hotels Remain Open Malaysia Airlines Starts Providing Passengers with Hygiene Kits HK Government Names Two Observers for Board of Cathay Pacific Maldives Reopens for Tourism Travelport Launches COVID19 Smartpoint Plugin Air France Aiming to Serve Close to 170 Destinations by End of Summer Japan Becomes First International Operator of V-22 Osprey Thai AirAsia to Launch Two New Routes from Hua Hin Asia Pacific Airlines Hardest Hit by COVID19 Crisis Four Seasons Reopens Global Flagship Hotel Thai Vietjet Launches Lunchtime Promo with 500,000 Tickets from THB 50++ Malaysia and Japan Airlines to Cooperate on Flights from 25 July Condor to Deploy eWAS Pilot and eWAS Dispatch Airbus Forms Team Nightjar as Australia Looks for Special Ops Helicopters US Air Force to Replace F-15C/Ds with F-15EX Fighter Jets Etihad to Operate Special Passenger Flights to Six Destinations in India BA Has Repatriated Nearly 40,000 People on 134 Flights Since 29 March Bombardier Transportation Appoints Rajeev Joisar as MD for India Dassault Falcon 6X on Track for First Flight in Early 2021 IATA Calls on IEA to Prioritise Investment in Sustainable Aviation Fuel Smiths Detection Producing Portable COVID19 Triple Antibody Test Device Ansat Helicopter Simulator Receives Certification from TsAGI Delta Cargo Partners PayCargo Boeing Delivers Last of 22 Apache Attack Helicopters to Indian Air Force Churning a Dream into Reality – Interview with CEO of Laos Buffalo Dairy Kew Green / Siamese Asset JV to Open 7 Hotels in Bangkok in 2021 Marriott Expands AC Hotels Brand to Japan Mandarin Oriental Signs Hotel and Residences in Vienna, Austria Sabre Signs SynXis Platform Agreement with Japan's Resorttrust, Inc Accor Opens 39th Pullman Hotel in Greater China Banyan Tree Opens Third Hotel in Mexico Bombardier Delivers 350th Challenger 350 Business Jet Elbit Systems Adds Mini-UAS to Seagull Unmanned Surface Vessel Thai Airways Extends Suspension of Flights to 1 September Sabre Names Members of New Executive Leadership Team Belmond Hotels Asia Pacific – Interview with Iain Langridge COVID19 Interview with GM of Courtyard by Marriott Siem Reap, Ms. Ashley Lai Grand Richmond Hotel in Nonthaburi Launches Quarantine Package Thailand to Promote Domestic Tourism First HD Videos and Interviews Podcasts from HD Video Interviews Travel Trade Shows in 2020 and 2021 High-Res Picture Galleries Travel News Asia – Latest Travel Industry News |