Credit: Original article can be found here
The USD/CAD currency pair, which expresses the value of the U.S. dollar in terms of the Canadian dollar, effectively sets the world's reserve currency against the currency of the most economically developed 'commodity nation.' After a rapid ascent, the U.S. dollar has fallen against CAD (the commodity currency in this equation), as significant monetary intervention and a return of positive risk sentiment across markets (including equities and commodities) helped to strengthen risk-on pairs in the FX space.
As shown in the daily candlestick chart below, USD/CAD has almost revisited its 2020 opening price of roughly 1.2975.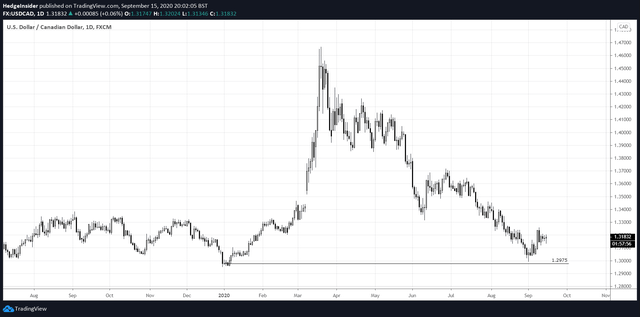 (Chart created by the author using TradingView. The same applies to all subsequent candlestick charts presented hereafter.)
From this perspective, with CAD being a commodity currency and USD being a conventional safe haven, it perhaps makes sense for USD/CAD (implicitly a "risk-off" pair) to be falling. CAD is considered a commodity currency due to Canada's position as a net exporter of oil products. Risk sentiment will therefore correlate positively with CAD, and negatively with USD strength. While Canada is a significant contributor to the global Oil & Gas industry, it is a more economically complex nation than either Australia or New Zealand (both of which represent other commodity currencies: AUD and NZD, respectively).
Yet Australia and New Zealand are net importers of oil, and therefore the chaos in oil markets this year has affected them far less. In fact, these countries have been net beneficiaries. The terms of trade of Canada (the ratio between the country's export and import prices), on the other hand, has plunged on an indexed basis (see below).
(Source: Trading Economics)
What we see here is a clearly downward trend over time, even if it is a gradual trend with some "fits and starts" along the way. Most recently, a rebound in oil markets has helped to support Canada's terms of trade, which is positive for the currency. However, oil prices are not where they used to be (still significantly lower than the highs of 2019), and Canada's terms of trade index still rests in line with the lows of 2015 and 2016.
In 2015/16, USD/CAD was trading at roughly the 1.40 handle (shown in the longer-term, monthly candlestick chart below).
In other words, when CAD terms of trade were looking about as bad as they are today, USD was peaking at well over 1.40 (briefly), and even most recently we saw similar price action when USD/CAD peaked at 1.4667 in March 2020. The question becomes, will we see a return of these prices soon, or will the current direction prevail in which we see a continually soft U.S. dollar?
Interest rates present no bias here, since both the Federal Reserve and the Bank of Canada have slashed their rates to the zero lower bound, from fairly similar starting points at the start of this year. With the Fed's target rate of 0.00-0.25% and the Bank of Canada's target rate of 0.25%, we should not expect any carry trade potential to develop any time soon. We should further expect the two central banks' future monetary policy to remain mostly in sync.
Inflation rates should be worth watching, though. The impact of crashing oil markets on the Canadian economy would cause one to suspect lower inflation in this economy, which is what is happening at the moment. The annual Canadian inflation rate is floating around the zero mark; flirting with both deflation and inflation (most recently: 0.1% in July 2020).
(Source: Trading Economics)
Meanwhile, the U.S. inflation rate is picking up a little more, steadying itself firmly back above the 1% mark in August 2020.
(Source: Trading Economics)
Lower inflation implies higher real-adjusted yields from Canada; as the annual inflation rate is subtracted from a currency's yield, lower inflation (or deflation) presents an advantage for currency strength when rates are otherwise the same (which they are, as we have established). While central banks do not "own" funding markets, they have substantial influence over them, and still do; therefore, on a real yield basis, USD/CAD downside is favored.
Yet this is only one factor, and I believe a minor factor at present. Still, we established a small rebound in Canada's terms of trade, which actually also contrasts favorably with U.S. terms of trade (which fell into the same month as Canada's most recent reading in July 2020).
(Source: Trading Economics)
We can take an even longer-term perspective, using the OECD's Purchasing Power Parity model data (a model that helps us to assess the relative purchasing power and implicit fair values of different currencies). I have constructed the chart below for USD/CAD; the red line indicates the probable fair value through to the end of 2019 (price action continues into 2020; the black line). I have added the bands to show a 30% delta from the rolling PPP-implied fair value through each year over time (to provide us with some context, as larger deviations do sometimes occur).
(Sources: Investing.com and OECD)
Quite nicely, the PPP model also supports further downside, with USD/CAD showing a clear ability (historically) to deviate on both the upside and downside. Some currencies, such as EUR/CHF, show a consistent trend (EUR has historically been under-weighted as markets have demonstrated consistent pessimism in euro prospects). USD/CAD seems to fall both in and out of favor over time. With CAD's real yield technically beating USD at the moment, and with oil markets showing some improvements, and with Canadian terms of trade also starting to shine (versus USD, at least), perhaps further CAD strength will be found in the coming days and weeks.
Indeed, if the long-term PPP value of circa 1.20 holds (2019: 1.19, per our PPP model), and if history is a guide, we could well see this price trade over the medium term. Generally, constructive risk sentiment in an election year is also a positive sign for CAD (versus USD). Therefore, while I previously suspected upside risk in USD/CAD (whether or not that would result in realized upside), most recently it would seem that further downside can be favored. The fundamentals currently seem to point to a short- to medium-term CAD "tailwind," rather than a headwind.
Disclosure: I/we have no positions in any stocks mentioned, and no plans to initiate any positions within the next 72 hours. I wrote this article myself, and it expresses my own opinions. I am not receiving compensation for it (other than from Seeking Alpha). I have no business relationship with any company whose stock is mentioned in this article.