Credit: Original article can be found here
In 75 years, Israel has become 'synonymous with a culinary destination'
Get the latest from Laura Brehaut straight to your inbox
Reviews and recommendations are unbiased and products are independently selected. Postmedia may earn an affiliate commission from purchases made through links on this page.
Article content
When Bonnie Stern began leading culinary tours to Israel in 2005, the food wasn't exactly a draw.
Article content
"People used to laugh at us. There was a sign in the bus that said, 'Culinary Tour,' and people would stop and point and laugh." But the Toronto-based food writer and cookbook author had a feeling that something exciting was bubbling beneath the surface. Eighteen years and 11 tours later, people are no longer laughing.
Stern started travelling to Israel in her mid-50s, around 2003 — "that's late for Jewish kids." On a first-timer's tour with family, her rabbi issued a warning: "Bonnie, the food is really terrible, and it isn't going to be a food trip at all." For the most part, she was right, says Stern, but a phenomenal meal at a soup kitchen planted a seed.
There weren't many fine-dining restaurants in Israel at the time, but Moshe Basson's The Eucalyptus in Jerusalem had come highly recommended. Stern learned that the restaurant had closed temporarily but Basson was running a soup kitchen in Mahane Yehuda Market, making pay-what-you-can lunches using leftover produce from vendors. After some convincing, Basson agreed to host Stern and her group.
Article content
The Iraqi-born chef and forager is renowned for his use of biblical ingredients — such as the seven species mentioned in the Bible: wheat, barley, grapes, figs, pomegranates, olives and dates (silan, date honey) — wild plants and herbs. "We had the most amazing meal," says Stern. "His food was so delicious and so different and wonderful. And everyone felt the same way, like they didn't know what hit them."
Stern has been taking groups to The Eucalyptus ever since. Though she has enjoyed many of Basson's dishes over the decades, she still remembers some of the details of that first meal: red lentil soup and figs stuffed with chicken. "It sounds impossible, but red lentil soup was not common (in Canada) 20 years ago."
Article content
Chefs and cookbook authors including Adeena Sussman, Joan Nathan and Michael Solomonov have now led Israeli food tours. But Stern broke ground: "If not the first person, (I was) one of the very first people ever to lead a culinary tour there. I had never heard of it before, and we did it mostly because of that meal with Moshe."
In the country's 75-year history, food in Israel has evolved from being "culinarily challenged" to a dynamic cultural export.
"It's pretty remarkable," says Tel Aviv-based food writer, editor and cookbook author Janna Gur. "My famous first phrase in my first book (The Book of New Israeli Food, 2007) was, 'Nobody comes to Israel for the food.' I remember working as a flight attendant, and I was constantly hearing complaints about food in Israel. How basic it is. How uninspired it is. Not a single decent restaurant, the quality of the produce, et cetera, et cetera. And now, we have almost become synonymous with a culinary destination."
Article content

Gur founded the magazine Al Hashulchan (On the Table) in 1991. Coinciding as it did with "the dramatic revolution" of Israeli food culture, what started as a trade publication became the country's leading food magazine. The quality of food products such as dairy, olive oil, fruit and vegetables, and wine improved, says Gur, and a cuisine began to emerge.
The evolution of Israeli cuisine stands apart from other modern immigrant countries, says cultural anthropologist Nir Avieli, a professor at Ben-Gurion University of the Negev who has studied the food of his native country for the past two decades. Jewish immigrants brought kosher versions of poverty cuisines from the diaspora with them, and these food traditions have combined to create a distinct national cuisine. Though, as Avieli explains, certain diasporic influences are stronger than others.
Article content
"If you want to compare it to Canadian cuisine or American cuisine, or to Chilean and Argentine cuisine, or Australian and New Zealand cuisine, some ideas evolved about what it means to eat in a specific style. But the character of the cuisine is less clear. In all these countries, it remained a kind of mixture," says Avieli, "while in Israel, Israeli cuisine has become Mizrahi."
The term Mizrahi was coined in Israel to describe the one million people who emigrated from the Middle East and North Africa in the 1950s — countries including Algeria, Egypt, Iraq, Lebanon, Morocco, Syria and Tunisia.
In labelling the immigrants coming from these countries as Mizrahi, or Easterners, the Eastern European Jewish majority defined themselves as Westerners, says Avieli. "This was a value-laden political term that was forced over Jews that came from Middle Eastern and North African countries. At the same time, these people were relegated to the Israeli periphery."
Article content
For a small country of 600,000, absorbing a million immigrants was a challenge, he adds. Israel was simultaneously trying to maintain its newly conquered territory. The newcomers — from different countries with diverse cuisines, backgrounds, jobs and ideas of religion — were all designated Mizrahi and sent to the borders.
The cultural implications were unexpected, says Avieli. Mizrahi identity continued to develop, gaining prominence in politics, religion, literature, music and theatre. "There is a struggle between the previous Eastern European culture defined as Western and the contemporary elites, which are Mizrahi. But there is one realm in which the victory is totally complete, and this is food. Israeli cuisine is Mizrahi."
Article content
Regardless of where their ancestors emigrated from, Israeli Jews associate Mizrahi dishes such as North African couscous, Libyan mafrum, Iraqi kubbeh, and local Palestinian/regional Levantine falafel and hummus with Israeli food, he adds. (Avieli delves into the "Hummus Wars" and the battle over ownership of the dish in his book, Food and Power, 2017.)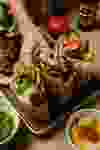 Some of the most successful ambassadors of Israeli food around the world — including Eyal Shani of Miznon (who recently launched his first Canadian location in Toronto), Assaf Granit of Michelin-starred Shabour in Paris, Einat Admony of New York's Balaboosta, and Michael Solomonov of the James Beard Award-winning Zahav in Philadelphia — serve variations on this theme.
Article content
Ashkenazi food such as chicken soup and gefilte fish is almost gone in Israel, says Gil Hovav, a Tel Aviv-based author and TV presenter. (Though it is making a comeback, says Avieli — in the guise of North American-style Jewish deli food. For example, pastrami on rye with a dill pickle.)
"We're a Middle Eastern country and it's natural that these would go if we don't have the right climate for it," says Hovav. "And, step-by-step, we're losing the link to the European background that we used to have."
When Hovav started writing about food in the mid-1980s, the culinary scene was already becoming interesting. "Israeli food and wine were very, very basic, even less than basic — basic is a polite word — until the '80s. But then, in the '80s when everybody got rich, people started getting interested in food and there was the wine revolution."
Article content
There were only two winemakers in Israel until the '80s, says Hovav. Now, there are roughly 400. People travelled and became interested in foods other than what they knew from home. "And Israel wasn't a socialist country anymore. So, it wasn't impolite to eat outside as it used to be when I was growing up."
Today, Israeli food culture is booming, says Hovav. He attributes its popularity to how colourful, fresh and seasonal it is — and its adventurous nature. "Israelis are notorious for not obeying rules. Try to drive in Israel and you'll understand. But when it comes to cooking, it's the same. We really have the highest disrespect to any tradition." You might find combinations of Mexican and Japanese food, or Turkish and Yemenite food. "In some cases, it's disastrous, but when it's successful, it's really good."
Article content
Israeli chefs think out of the box, according to Naama Shefi, founder of the Jewish Food Society in New York and Asif: Culinary Institute of Israel in Tel Aviv. Israel may be small, she says, but it's fertile ground. Being exposed to so many food cultures is as inspiring for chefs as it is for home cooks.
Shefi believes that Israelis have much to offer the world in terms of food, whether it's the casual way meals are enjoyed, their take on the healthful and sustainable Mediterranean diet, or innovations in agricultural technology.
Asif has a role to play in bringing together innovation and tradition, says Shefi. As part of their inaugural exhibition on the late Nechama Rivlin, researcher and former Israeli first lady, for example, they made guvetch (Balkan vegetable stew). In adapting Rivlin's recipe, which dates back five generations in Jerusalem, they used plant-based Redefine Meat. "It involves hundreds of years and something from the future in the same place."
Article content

The idea for the Jewish Food Society was born at the first Shabbat dinner Shefi shared with her now-husband's family. Taken by the stories behind the dishes on the table — each one reflecting their journey from Turkey, Greece and Zimbabwe to Israel — she was determined to preserve their culinary heritage.
Researching and archiving Jewish family recipes is as important today as it was when she started the non-profit in 2017, says Shefi. And though the two organizations are connected, Asif is an Israeli project, she underscores, not a Jewish one. "I have always believed that there is something unique about the food culture in Israel — the result of a unique combination of people, history, land and climate. The French would call it 'terroir.'"
Article content
Gur also highlights the importance of the immediate environment, a merging of people and place. "A reconnection to the cuisines of our grandmothers was part of the acceptance that Israel is a diverse, immigrant society and there is no reason whatsoever to be embarrassed of your culinary roots — just the opposite. Just as in order to create varied local cuisine, you need to reconnect to your terroir. And your terroir is another way of saying Palestinian/Levantine cuisine. And without these two — Jewish immigrant cuisine and Palestinian/Levantine cuisine — Israeli food is unimaginable."
As for the question of where Israeli cuisine might be headed as the country approaches its 75th anniversary on April 26, Avieli and Gur believe it depends on what happens politically. Prime Minister Benjamin Netanyahu's plan to overhaul Israel's judiciary has "sparked the biggest protest movement in Israeli history," according to the Guardian.
Article content
"The present government attempts to change the basic structure of the political system here and remove the democratic aspects of it. So, if they win, if they will be able to do what they are doing, then the creative powers will leave," says Avieli.
When we spoke on a "national disruption day," during which police fired stun grenades and a water cannon in Tel Aviv, Gur felt that talking about food "was almost frivolous."
Israeli cuisine flourished, in part, due to the economy. For an inventive food culture to exist, people need to have the means and inclination to enjoy it, says Gur.
"Israeli chefs did create something extraordinary, on par with the recreation of Hebrew language, of Hebrew music, of Hebrew literature — there are so many fields in which we built or rebuilt or recreated cultural products. And for me, food is part of culture. Food and wine is definitely something that we must be very proud of. But we need a functioning, democratic country to enjoy it."
Article content
---
Israeli recipes for Passover: Fish kebabs with chraime and saffron-scented soup
FISH KEBABS WITH CHRAIME

Recipe and photo excerpted from Don't Worry, Just Cook by Bonnie Stern and Anna Rupert, published by Appetite by Random House, an imprint of Penguin Random House Canada. Copyright ©2022 Bonnie Stern Cooking Schools Ltd. and Anna Rupert. Reprinted by permission of the publisher.
Fish kebabs:
1 large or 2 small shallots, or 1 small onion, chopped
2 tbsp + 2 tbsp extra virgin olive oil
2 lb white-fleshed fish (like cod, haddock or halibut)
3/4 cup chopped fresh dill, cilantro or flat-leaf parsley (or a combination)
1 egg, lightly beaten
1 1/2 tsp kosher salt
1/4 tsp ground cardamom
1/4 tsp ground coriander seeds
1/4 tsp ground cumin
1/4 tsp sweet paprika
1/4 tsp ground sumac
1/4 tsp ground turmeric
1/8 tsp freshly ground black pepper
Article content
Sauce:
3 tbsp extra virgin olive oil
2 small onions, thinly sliced
3 garlic cloves, finely chopped
1 jalapeño, halved, seeded and chopped
1 tsp ground cumin
1 tsp sweet paprika
1 tsp ground turmeric
1/2 tsp smoked paprika
1/2 tsp kosher salt
1 tbsp tomato paste
1 tsp to 1 tbsp harissa, depending on your heat tolerance (see note)
6 cups cherry tomatoes
1/4 cup water + more as needed
1/4 cup + 1/4 cup coarsely chopped fresh cilantro
1 long red chili, thinly sliced into rounds
1 jalapeño, thinly sliced into rounds
For serving (optional):
Tahini sauce
Z'hug
Rice pilaf, couscous, mashed potatoes or freekeh
Step 1
For the fish kebabs, in a skillet set over medium heat, cook the shallots in 2 tbsp olive oil for 5 to 10 minutes, or until tender but not browned. Set aside to cool.
Article content
Step 2
Chop the fish with a big, sharp knife until some smallish pieces remain and some are finely minced. If you are doing this in a food processor, cut the fish into about 1-inch pieces and then pulse until the fish resembles hand-chopped fish — try not to overprocess it. Transfer the fish to a bowl, then add the cooled shallots, herbs, egg, salt, cardamom, cumin, sweet paprika, sumac, turmeric and pepper. Mix well. Shape the mixture into 16 to 20 small patties, about 2 oz each.
Step 3
Add 2 tbsp olive oil to a large, deep, heavy-bottomed skillet set over medium-high heat. Cook the patties for 1 to 2 minutes per side, or until browned — you will probably have to do this in batches. Don't worry about cooking them through, as they will finish cooking in the sauce. Set the browned patties aside.
Article content
Step 4
For the sauce, heat the olive oil (in the same pan that you used to brown the fish) over medium heat (just make sure to wipe out any burned bits). Add the onions and cook for 4 to 6 minutes, or just until tender and lightly browned. Add the garlic, chopped jalapeño, cumin, sweet paprika, turmeric, smoked paprika and salt. Cook for about 1 minute. Add the tomato paste and harissa. Cook for another minute. (At any point if the pan seems dry, add a few tablespoons of water.) Add the tomatoes and water. Bring to a boil (increase the heat if necessary), then cook on medium heat until the tomatoes split and collapse. Add 1/4 cup cilantro. Let the tomatoes cook for a few minutes into a sauce while retaining a little of their shape. Season well.
Article content
Step 5
Add the patties to the tomato sauce and gently cook for 5 to 8 minutes, covered, or until just cooked through. Sprinkle with the remaining cilantro and chilies, and serve with tahini sauce and z'hug, if using.
Serves: 6 to 8
Note: Harissa is a hot sauce that originated in Tunisia and is now easy to find in grocery stores. I use it in many recipes. Each brand of harissa is different — some contain just hot chilies and some contain chilies and spices, so be sure to taste test the one you are using to judge how much you should add for your heat tolerance.
Fish fillet alternative: To make this recipe with fish fillets instead, skip steps 1 and 2 and add 2 lb boneless, skinless fish fillets, seasoned with salt and pepper, to the sauce in a single layer in step 3. Cook just until the fish is cooked through, 7 to 10 minutes, depending on the thickness. When I am making this for more than 6 people, and the fish will not fit in the pan in a single layer, I usually make the sauce first and roast the fish separately on a large baking sheet, then spoon the sauce over the roasted fish to serve.
Article content
SAFFRON-SCENTED CHICKEN AND VEGETABLE SOUP WITH FRESH HERB MATZO BALLS

Recipe and photo excerpted from Shuk by Einat Admony and Janna Gur (Artisan Books). Copyright ©2023.
Soup:
3 chicken legs, separated into thighs and drumsticks
Kosher salt and freshly ground black pepper
2 tbsp vegetable oil
2 medium yellow onions, cut into 1/2-inch (1.5 cm) chunks
2 garlic cloves, minced
1 large carrot, cut into 1/2-inch (1.5 cm) chunks
1 celery rib, cut into 1/2-inch (1.5 cm) chunks
1 fennel bulb, sliced crosswise into 1/2-inch-thick (1.5 cm) pieces
1 1/2 tsp finely chopped orange zest
1/2 tsp sugar
Scant 1 tsp saffron threads
1/2 tsp ground turmeric
1 tsp ground cumin
1/2 tsp fennel seed or aniseed
3.5 L cold water
1 tbsp chopped fresh tarragon leaves
Article content
Matzo balls:
1 1/2 cups (185 g) matzo meal (we like Streit's)
1/3 cup (80 mL) boiling water
5 large eggs
1/3 cup (80 mL) vegetable oil, plus more for greasing
1 1/2 tsp kosher salt
1/8 tsp freshly ground black pepper
1/3 cup (15 g) coarsely chopped fresh cilantro
1/3 cup (17 g) coarsely chopped fresh parsley
1/3 cup (17 g) coarsely chopped fresh dill
1/4 tsp baking powder
Step 1
Make the soup: Remove the chicken from the fridge about 30 minutes before cooking. Pat it dry with paper towels and season with salt and pepper.
Step 2
Heat the vegetable oil in a large soup pot over medium-high heat for 2 to 3 minutes. Add the chicken pieces, skin-side down, and sear, without flipping the pieces, until the skin is nicely browned, about 5 minutes. (You can brown the chicken pieces in batches if your pot isn't large enough to fit them all at once.) Transfer the chicken pieces to a plate and set aside.
Article content
Step 3
Reduce the heat to medium, add the onions and sauté until soft and golden, about 8 minutes. Add the garlic and sauté for another minute. Add the carrot, celery and sliced fennel and cook until tender, about 12 minutes.
Step 4
Add the orange zest, sugar, saffron, turmeric, cumin, fennel seed, a few twists of pepper and 1 heaping teaspoon salt. Return the chicken to the pan and pour in the water. Add the tarragon. Bring to a boil, reduce the heat to low, cover the pot with the lid ajar and simmer for about 1 1/2 hours until the broth is deeply flavoured. Toward the end of the cooking time, taste and season with salt, if needed.
Step 5
While the soup is cooking, make the matzo balls: Put the matzo meal in a large bowl and stir in the boiling water. Break up the clumps with your fingers until the mixture looks like a coarse meal. Let sit for 15 to 20 minutes.
Article content
Step 6
Meanwhile, combine the eggs, oil, salt, pepper, cilantro, parsley and dill in a food processor and process until the mixture is smooth, foamy and speckled with dots of green. Add the egg mixture to the matzo mixture, stir in the baking powder and mix thoroughly. If the mixture feels liquidy, chill in the fridge for about 15 minutes.
Step 7
Rub your palms with oil and form 1-inch (2.5 cm) balls (they will swell considerably during cooking), arranging them on a plate or a tray as you go.
Step 8
When all the balls are ready, slide them gently, one by one, into the simmering soup and cook over medium heat for about 10 minutes, or until cooked through (cut into one — it should be slightly fluffed up and have the same colour all the way through).
Step 9
Serve promptly. You can make the soup, without the matzo balls, a day or two in advance and store it in an airtight container in the fridge until ready to serve (the flavour will be even better); reheat before serving. Make the balls and add them to the soup shortly before serving.
Serves: 8 to 10
Get the latest from Laura Brehaut straight to your inbox